Call Us Today for an Exclusive Internet Offer!
The amazing and rugged

new Kia Sorento

is here, and it comes with all of the bells and whistles you could think of. This is a vehicle you simply need, one that offers you three-rows of seats, cabin design improvements, and up to 281 horsepower @5800 rpm. Does the Kia Sorento for sale sound like an SUV for you? This vehicle is slightly bigger than the previous year (inside and out) and it also comes with a fuel-efficient hybrid trim. Want a technology filled SUV? That won't be a problem on the Urbana Kia Sorento because it gives you a standard 8-inch touchscreen (10-inch on other trims).

Convinced yet? Well if you take advantage of new Kia Sorento deals you can experience the great safety features offered on this SUV. Couple this with the well-known warranty program that gives you a 10 year/100,000-mile powertrain protection plan, giving you an amazing peace of mind and allowing you to go further. Don't forget about Urbana Kia Sorento specials so you can save big.

Let us help you take that next step towards the new Kia Sorento for sale. The free test drive offered is a chance to feel what this SUV is really all about. You certainly won't regret making this choice. You can always visit us at:

1111 NAPLETON WAY, URBANA, IL 61802

so that our wonderful representatives can get you inside the new Kia Sorento for sale in Urbana. 

For an exclusive offer, fill out the online form labeled

'Get More Savings!'

.Scroll down to keep reading about the new Kia Sorento near you

.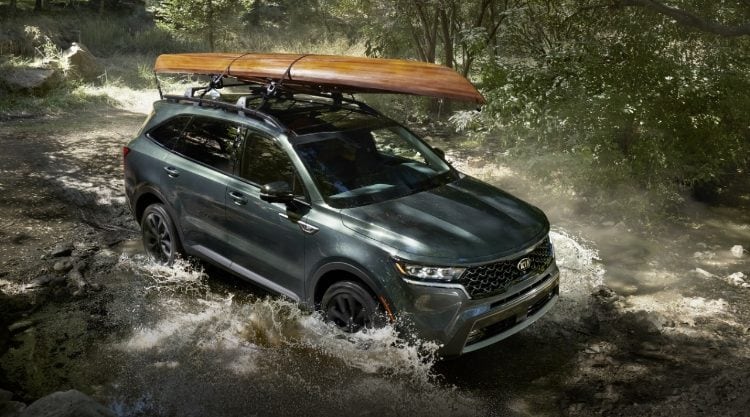 Now! Save Big On A New Kia Sorento For Sale in Urbana

Kia Sorento Specs & Features
Engine

2.5L 4-cylinder

Horsepower

Up to 281-hp
Transmission

8-Speed Automatic Transmission
Engine Torque

Up to 311 lb.-ft @1,700-4,000 rpm

★★★★★ Kia Sorento Reviews
Limited Time! Get A Free Kia Sorento Deal Near Me

Sorento Exterior
The rugged looking Urbana Kia Sorento for sale can endure any terrain, from rough roads to the twists and turns of the city. It's a versatile SUV that has had a few upgrades since the previous year. Find out more on the Sorento near you.
Sorento Performance
Getting up to 281-hp, this new Kia Sorento Urbana knows no bounds as it will get you to your destination with power and precision. Experience what it's like to be behind the wheel of this popular SUV. 
Sorento Interior
Enjoy a more spacious Urbana Kia Sorento where you can fit more items than ever before. This SUV utilizes space in a practical manner, giving you a plethora of options on the road. Remember that Kia Sorento deals will make your life easier.
Sorento Safety/Warranty
Safety should be at the forefront for vehicles in general, and the Sorento for sale is no different in this matter. With outstanding safety features and an exemplary warranty program, you can drive away safe and sound. Urbana Kia Sorento deals await.
Return To The Top
Urbana Kia Sorento Exterior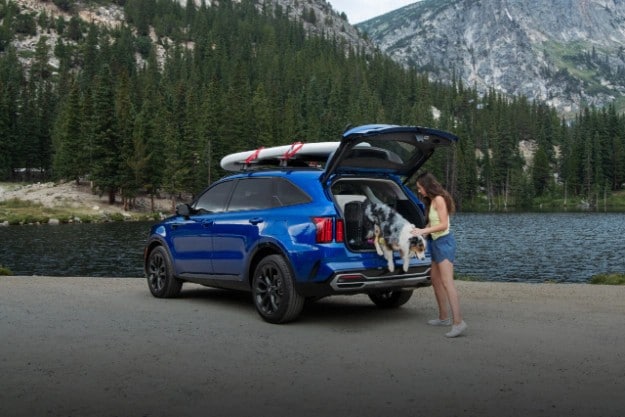 Kia Sorento Exterior Features

You are going to be impressed by how the new Kia Sorento looks from the outside looking in. This SUV commands your attention with its sleek black front-grille and rugged body styling. Is the Urbana Kia Sorento an SUV that you simply need? It can certainly be worthwhile because it was built to master all kinds of terrains with its standard 17-inch alloy wheels. See more details on the Sorento near you.
Rugged Body Styling
Front and Rear Skid Plate, Matter Black
Front Grille, Black
Lower Door Accent, Matte Black
Mirror-Mounted LED Turn Signal Indicators
Solar Control Glass
Sound Absorbing Front Windshield
Rear Windshield Wiper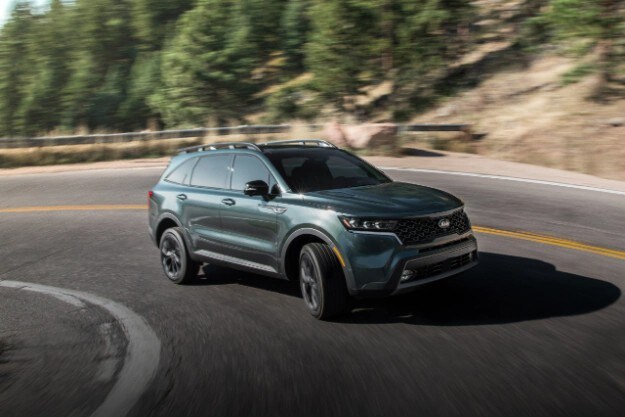 Kia Sorento Exterior Info

Details matter, and when it comes to the new Urbana Sorento for sale, it makes all the difference. Stepping inside this SUV is no ordinary experience, as you will quickly see that some of the smaller details will end up making your driving experience better. Come in for a free test drive and you will find out that the Kia Sorento near you is spacious both on the inside and out.
Pirelli P-Zero All-Season: 205 / 65R16
Wheelbase: 110.8-in
Length: 189.0-in
Height: 66.7-in
Width: 74.8-in
Kia Sorento Performance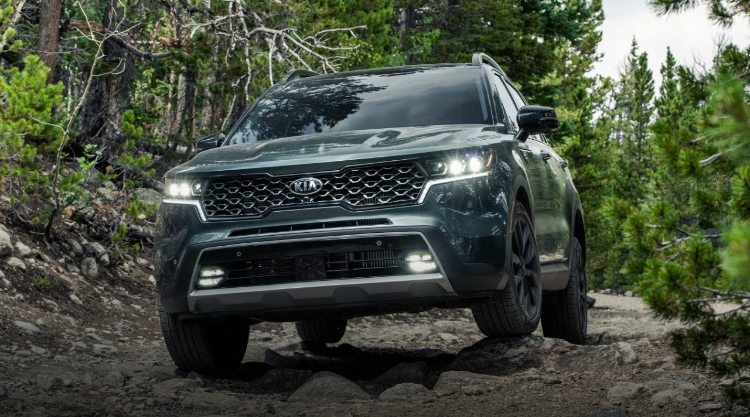 Kia Sorento Engineering
Let performance specs take you to another level as is typical of the Sorento for sale. Getting up to 281-hp, this SUV was built with you in mind, also giving you up to 311 lb-ft of torque! Does the new Kia Sorento sound like your kind of vehicle? Whether there is snow, rough terrain, or simply driving on the highway, this SUV will meet your needs. Find out more on the Kia Sorento near you. 
Engine Type: 2.5L 4-cylinder
Horsepower: Up to 281 @ 5800 rpm
Torque: Up to 311 lb-ft @ 1700-4000 rpm
Fuel Tank Capacity: 17.7 gal.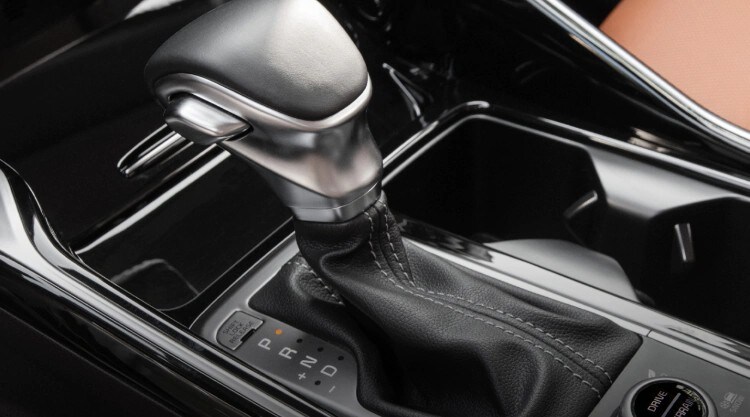 Kia Sorento Engine Info
Have we caught your attention on the new Kia Sorento yet? If you are impressed with what you see then sign up for that free test drive. It's the only way you can truly feel the power behind an SUV like this, but you can also take advantage of Kia Sorento deals. 
Transmission: 8-speed automatic (FWD)
Towing Capacity: 2000 lb
Drive Mode Select: ECO, SPORT, COMFORT, SMART, CUSTOM
Front Suspension Type: MacPherson Struts, Stabilizer Bar
Rear Suspension Type: Independent, Multi-link, Stabilizer Bar
Return To The Top
Urbana Kia Sorento Interior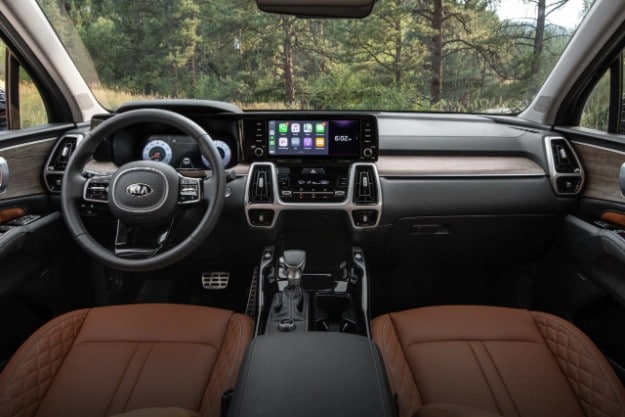 Kia Sorento Technology
You're in very good hands when it comes to technology in the Kia Sorento for sale. Enjoy a great 8-inch touchscreen that allows you to access apps with ease. Of course the Urbana Kia Sorento supports both Android Auto™ and Apple CarPlay®, then couple that with a standard 6 speaker system. Filling out that form can get you closer to this great SUV. Sorento Urbana specials are also available.
8.0-inch Touch-Screen
Android Auto™/Apply CarPlay®
6 Speaker AM/FM/HD Radio Audio System
Steering-Wheel-Mounted Audio, Hands-Free Phone & Cruise Control Buttons
USB Data Port, Front Console
USB Charging Outlet, Front Console
USB Charging Outlet, 2nd Row (1)
USB Charging Outlet, 3rd Row (2)
12-Volt Power Outlet, Front Console
12-Volt Power Outlet, Rear Cargo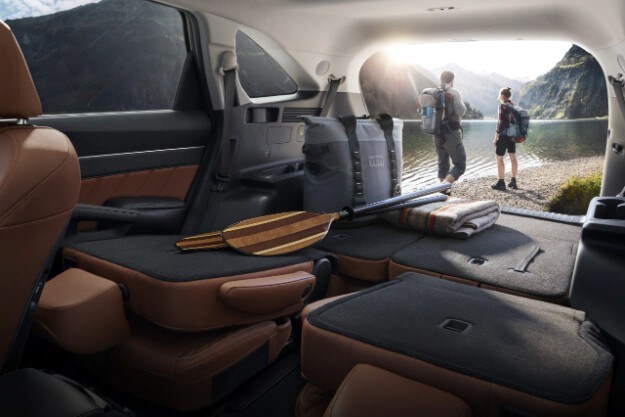 Kia Sorento Convenience Features
Interior space is plenty in the Urbana Kia Sorento as there are a lot of little features that make driving as pleasant as possible. Fold seats effortlessly to create even more space for bigger items as such. There are a myriad of bottle holders, armrests, and other amenities to satisfy the Kia Sorento for sale driver.
60/40 Split-Folding 2nd-Row Seats
7-Passenger Seating
6-way Adjustable Driver's Seat
One-Touch Sliding & Folding 2nd-Row Seats
Reclining 3rd-Row Seats w/ 50/50 Split-Folding
Accent Trim, Technical Embossing
Return To The Top
Urbana Kia Sorento Safety Features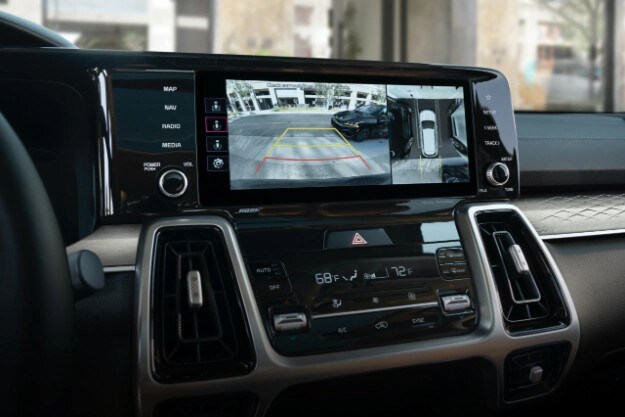 Kia Sorento Safety Features
The Urbana Kia Sorento for sale has your back at all times, with intuitive safety features supporting you on the road. Want to get a taste of what this feels like? Take a second to look at some great Sorento deals to get the most out of this SUV. See more details below
Kia Drive Wise Assist Technology
Forward Collision-Avoidance Assist (FCA) w/ Pedestrian Detection
Driver Attention Warning (DAW) with Leading Vehicle Departure Alert
Lane Departure Warning (LDW)
Lane Keeping Assist (LKA)
Lane Following Assist (LFA)
High Beam Assist (HBA)
Rear View Monitor w/ Dynamic Parking Guidance
Rear Occupant Alert (ROA)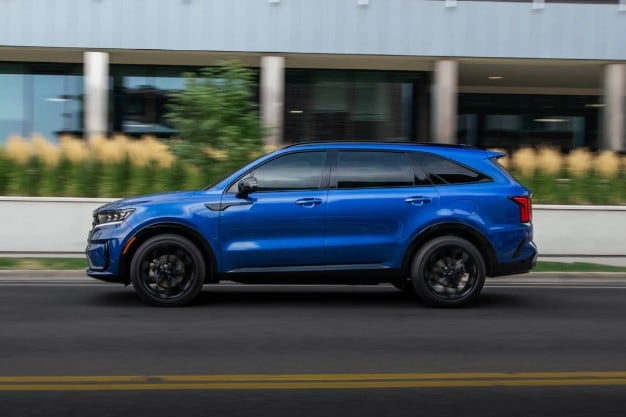 Kia Sorento Warranty
The industry-leading warranty program is here to stay on the Kia Sorento near you. Imagine knowing that you will be protected for years on end! Well it's a reality here because we all know that vehicles break down eventually. Take away that peace of mind and jump inside this amazing Sorento for sale.
Industry-leading Kia 10-year/100,000-mile warranty program
Return To The Top
Kia Sorento Trims & Specs

| Model | LX | S | EX | SX | SX-Prestige |
| --- | --- | --- | --- | --- | --- |
| Seats | 7 | 7 | 7 | 7 | 7 |
| Engine | 2.5L 4-cylinder | 2.5L 4-cylinder | Turbocharged 2.5L 4-cylinder | Turbocharged 2.5L 4-cylinder | Turbocharged 2.5L 4-cylinder |
| Horsepower | 191 @ 6100 rpm | 191 @ 6100 rpm | 281 @ 5800 rpm | 281 @ 5800 rpm | 281 @ 5800 rpm |
| Torque | 181 lb.-ft. @ 4000 rpm | 181 lb.-ft. @ 4000 rpm | 311 lb.-ft. @ 1500-4000 rpm | 311 lb.-ft. @ 1500-4000 rpm | 311 lb.-ft. @ 1500-4000 rpm |
| Transmission Type | 8-Speed Automatic Transmission | 8-Speed Automatic Transmission | 8-Speed Dual Clutch Automatic Transmission (Wet Type) | 8-Speed Dual Clutch Automatic Transmission (Wet Type) | 8-Speed Dual Clutch Automatic Transmission (Wet Type) |
Kia Sorento FAQ

-We think that Kia Sorento is an excellent mid-size SUV. Here's what we like about it:

new driver safety assist technology
inspiring performance
ample seating and cargo space
standard 5+2 seating
available turbo powertrain
The new Kia Sorento for Sale in Urbana, IL comes in the following trim levels: LX, S, EX, SX and SX-Prestige with SX-Prestige being the top of the line trim. 
Here are the exterior colors the new Kia Sorento comes in:

Aruba Green
Sapphire Blue
Passion Red
Crystal Beige
Sparkling Silver
Everlasting Silver
Gravity Gray
Glacial White Pearl
Ebony Black
The price of the new Kia Sorento for sale in Urbana will depend on the trim level as well as the extras you will choose to add. To see our best deals visit our Kia Sorento inventory page. 
Kia Sorento Free Test Drive Near me
The time is right to take advantage of the free test drive offered here at Kia of Urbana. The new Kia Sorento is a brilliant SUV with loads to give and will make your ride a lot more comfortable. Here at Kia of Urbana serving Champaign, Rantoul, Danville, Charleston, Decatur, Mattoon, Bloomington, Normal and surrounding areas, we encourage you to try this car out. The Kia Sorento near you is simply one of a kind.

This SUV has had some upgrades and offers you even more on the road. What more reason to get inside the Urbana Kia Sorento for sale? If you like everything you have seen today, then there should only be one option. Please note that Sorento deals are available also. Return To The Top
Urbana Kia Sorento Near Me
Congratulations on making it this far into the page, but surely this means you are ready to enjoy the new Kia Sorento. The exterior looks of this car have a nice rugged style coupled with sleek design. The aesthetic upgrades to this SUV were simply made with you in mind. You have seen that this Urbana Kia Sorento packs a lot of power under its hood, producing up to 281 horses and plenty of torque.
Interior features go far on the Kia Sorento for sale, giving you up-to-date software so you can focus on driving instead of fidgeting around. On top of that there is plenty of space to fit passengers and add cargo to your heart's content. Of course the Kia Sorento near you has modern safety features that accentuate your driving experience and for sure keep you safe. The be all and end all is the warranty program which continues to be the best around.
So what are you waiting for? Come visit us at:
1111 Napleton Way, Urbana, IL 61802
and our representatives will definitely take care of you. Kia Sorento deals are around and need to be taken advantage of. Fill out that form and change your entire driving experience. Stay ahead of the game and get the new Kia Sorento in Urbana today!
Return To The Top
New Kia Sorento
More sophisticated than ever, the new Kia Sorento is ready for its close-up. Featuring a new front and rear fascia, and a more upscale interior, the Sorento is ready and able to carry up to seven passengers in three row comfort. Add to that, newly-added technology, like Driver Attention Warning, Lane Keep Assist and Harmon Kardon QuantumLogic Surround Sound, and you have the looks, feel and sound of a winner.
Sorento Design
The Kia Sorento is a clear example of how world-class design and craftsmanship are executed. Now available with standard luxury across five different trim levels, buyers can start with the L trim level, moving up through the LX, EX, SX and top-of-the-line SXL model. With a new, tighter, sharper exterior including an artfully detailed grill flanked with newly-designed headlights, (Available LED lights on SX and SXL trim levels) and a more sculpted front bumper, help the Sorento achieve a much more aggressive look. The aggression goes all the way to the wheels, with newly-designed models going from 17 to 19 inches depending on trim level.
Sorento Interior
Inside the Sorento, is a spacious and sophisticated cabin loaded with premium features throughout, that will help to make your journey inside the Kia Sorento as important as the destination. Upgrades in features and materials include a new tactile steering wheel, new shifter knob, a revised gauge display and changes to the air vent arrays.
Sorento Technology
Then there are the technology features: An available AVN 5.0 navigation system with Android Auto and Apple CarPlay connectivity is offered in the higher trim levels, along with wireless charging of compatible Android6 and Apple iPhone8 and iPhoneX models. The available 630-watt, 10-speaker Harmon Kardon system with Clari-Fi actually helps to restore music that has been lost due to the compression used in today's digital music. We've heard the difference between the two and have been blown away by the results.
Sorento Seating
Seating versatility is also in play with the new Kia Sorento. With the middle row offering 40/20/40 folding seating and the third row configured in a 50/50 folding arrangement, there is a way to carry any combination of people and things. Just think how many cases of water and paper towels can be had during a run to your local warehouse store. Cap those off with an available dual zone HVAC system and panoramic sunroof and there are many compelling reasons to consider the Kia Sorento as your next Crossover Utility Vehicle.
Sorento Performance
Power for the new Kia Sorento comes from a choice of front or all-wheel-drive options with either a 2.4-liter inline four-cylinder GDI engine or a 3.3-liter V6 GDI engine. The 185 horsepower 2.4-liter is mated to a six-speed Sportmatic gearbox. The 3.3-liter V6 Gas Direct Injection engine produces 290 horsepower while being mated to a newly available 8-speed automatic transmission that it shares with its Kia Cadenza sibling. Featuring smoother shifts and power delivery from this available V6 AWD package, it has a towing capacity up to 5,000 pounds. 
Sorento At Napleton's Kia of Urbana
Discover what makes the Kia Sorento one of Kia's best-selling vehicles year after year. Browse the new Kia Sorento inventory from Napleton's Kia of Urbana, proudly serving Champaign-Urbana, IL.
Dealer not responsible for typographical errors. Pictures are for illustration purposes only. All vehicles subject to prior sales. See dealer for details. MSRP may not be price at which vehicle is sold in trade area. New car prices include applicable manufacturer incentives in lieu of special financing. Plus tax, title, license & $347.26 doc fee. New car MPGs are EPA's estimated city/highway MPGs. Warranties include 10-year/100,000-mile powertrain and 5-year/60,000-mile basic. All warranties and roadside assistance are limited. See retailer for warranty details. Used car prices plus tax, title, license & $347.26 doc fee. Used car MPG claims are based on EPA estimated city and highway ratings when vehicle was new. Consumers actual mileage will vary. The value of used vehicles varies with mileage, usage and condition. Book values should be considered estimates only